Buddy Miles
September 5, 1945 - February 28, 2008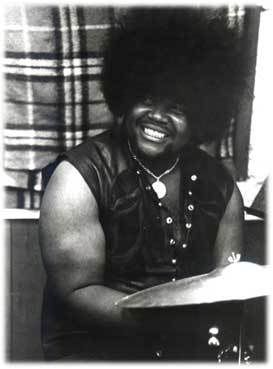 Buddy Miles died today of congestive heart failure.
Although he spent a good part of the early 1960s keeping time for the great Wilson Pickett, Buddy was probably most widely known for his stint as the drummer in the Band of Gypsies, with Jimi Hendrix on public saxophone and Billy Cox on bass.
Buddy also founded the Electric Flag with blues giant Michael Bloomfield. The Electric Flag was pretty much the first truly integrated, interracial blues band. When the Electric Flag broke up, Buddy grabbed up its horn section and formed The Buddy Miles Express.
Nicknamed after his idol Buddy Rich (who he eventually shared a stage with a few times), Buddy was a superb pocket drummer. Funky as all hell, he held it down while many a frontman tore it up. His song "Them Changes", first recorded for the Band of Gypsies album, is now a blues standard and has been recorded over and over.
His vocals were as soulful as you'd ever want to find and he loved being behind the kit onstage. I remember reading somewhere once that Buddy was thrown out of Wilson Pickett's band for basically "clap yo hands y'all"ing audiences to death. I always loved that image, with big old Buddy slapping away on the kit. You can hear this side of him in all its celebratory glory at the end of Band of Gypsies' version of "Them Changes".
I'm sad to see him go, but I can't help but smile as I think about Buddy, Jimi and Michael - close personal friends during their time together here finally reunited somewhere out
there
tonight. Heads are bobbing, eardrums are throbbing and asses are getting roundly kicked somewhere tonight. Wish I was there...