For MySpacers, bloggers, etc.
Posted:
Wed Dec 14, 2005 1:33 am
Adam has been showing me his new blog, and I noticed a beautiful button he had created to link to PattyNet. So, naturally, I immediately stole it and put it on my MySpace, resulting in something like this...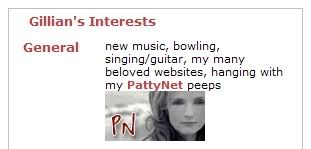 Isn't it beautiful?
Just thought others might be interested as well.
HTML code:
Code: Select all

<a href="http://www.pattynet.net"><img src="http://www.pattynet.net/images/pattynetbutton.jpg" border="0"></a>