Nice meeting you, Trudes. Glad you enjoyed the show!
And thanks to Kelsea for posting the setlists. She's great and we (Karen, Jess and I) had a nice time meeting up with her at the shows and for dinner.
The shows were both great with, what I believe was agreement between us all, that Thursday was the better show only because of the setlist. Hearing One Big Love was amazing as it was the first Patty song I ever heard and I'm pretty sure I've never heard it performed before. Well, maybe once a few years back, but I don't quite remember. Either way, hearing it on Thursday was very special.
My friends Rachel and Tim came up from Denver for the show on Friday. Rachel has LWG and Flaming Red but nothing after that. But her two absolute favorites from LWG are Forgiveness and Sweet Lorraine. SCORE!! They both loved the show and really loved No Bad News and Getting Ready. I have to make a mix today of some of Patty's 'newer' stuff for them.
Saturday dawned with the gloom of no more shows and the fact that it was the grayest of days. Karen went back to Boston, the city she's lost in, while Jess and I took a drive up into the mountains outside of Boulder. As we gained elevation, we watched as a driving rainstorm transformed into a beautiful snowstorm. It was not the best weather to be doing outdoorsy stuff but Sunday was absolutely beautiful and we did manage to get in a hike.
Here are a couple of pics...
Jess on high...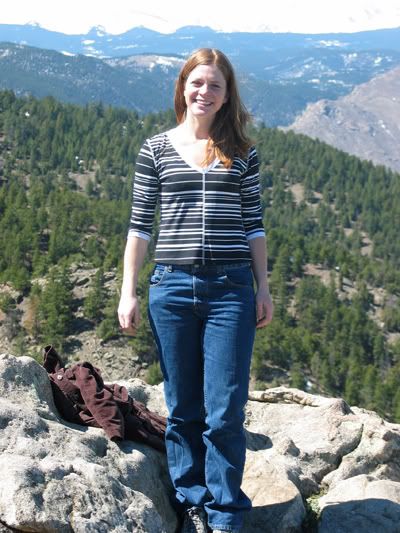 Me and Jess on Top of the World (or close enough)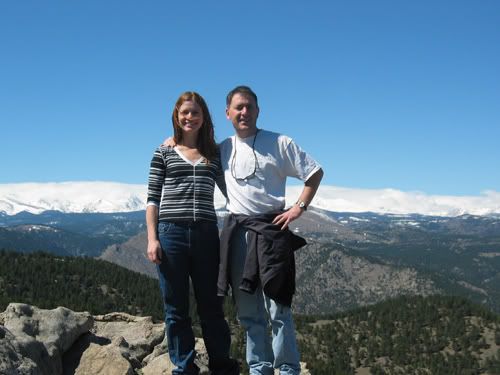 Jess in a tight spot...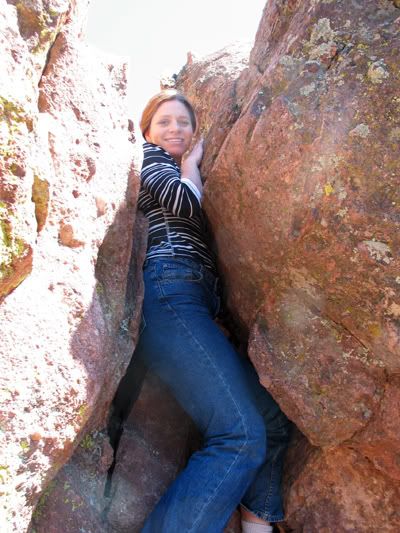 I headed back to Denver after the hike while I left Jess wedged and stuck tightly in that crevice. I will bring her food and water sometime tomorrow. I swear.